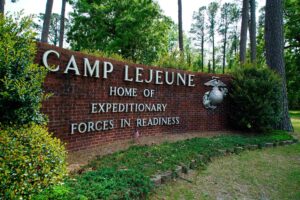 1.Question: How long must I have been stationed or living at Camp Lejeune to be entitled to file a claim?
Answer: The Camp Lejeune Justice Act of 2022 provides for Marines and their family who lived on the base for thirty (30) days to file a claim;
2. Question: Is there a statute of limitations to file a claim?
Answer: Yes. The Act provides for a two-year statute of limitations to file a claim.
3. Question: What evidence and documents are needed to substantiate a claim?
Answer: We will assist you with your specific claim, which includes evidence that you lived on base and your medical diagnosis.
4. Question: What Hazardous Contaminants infiltrated Camp Lejeune water supply?
Answer: Camp Lejeune water was contaminated with volatile organic compounds (VOCs), namely trichloroethylene (TCE) and perchloroethylene (PCE).
5. Question: How did the water supply become contaminated?
Answer: The contaminants got into the water supply from a dry cleaner off base, as well as leaks and spills on base.
6. Question: What are the known health effects to exposure?
Answer: The list of known health effects caused by exposure to VOC and TCE include, adult leukemia, kidney cancer, non-Hodgkin lymphoma, Parkinson's disease, bladder cancer, cardiac defects, and liver cancer.
7. Question: Can I file a claim even if a previous claim for exposure was dismissed?
Answer: Yes. The Camp Lejuene Justice Act of 2022 allows claimants to file a claim even if their previous claim was dismissed.
8. Question: How much is my claim worth?
Answer: The value of each claim is based upon the diagnosis, disability and prognosis of each claim.
9. Question: Why would I chose George Baxter, Esq. to represent me over those bigger firms that advertise on television?
Answer: Many of the large television commercials are actually attorney referral agencies that refer you names as leads to other law firms who may not be experienced.
10. Question: Why Chose the Baxter Law Firm?
Answer: Two words: Experience and Winning. The Baxter Law Firm has four decades of winning experience, and that is experience you can trust. Mr. Baxter, a seasoned lawyer, will guide every step of the way. Your case will not be assigned to a paralegal or inexperienced lawyer. Mr. Baxter is a Marine Corps veteran, who served from 1969 to 1972. He understands the unique challenges that faced his generation of veterans. His dedication to you and commitment to winning is unparalleled.